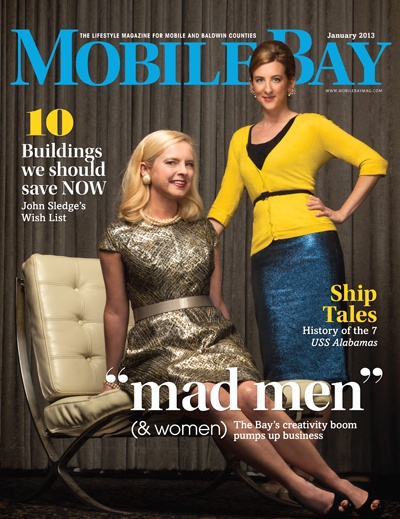 Cissy McCraw can sum up her sumptuous brick home in three words: Expect the unexpected. In her spacious new Cottage Hill digs, contemporary design meets antique craftsmanship; sleek new pieces sit alongside comfortable old heirlooms. The resulting package is a multi-layered space that begs to be explored.
The house is half a decade in the making. Cissy and her husband, Lee, bought the lot in June 2005, however their building plans were derailed just two months later, when Hurricane Katrina barreled into their existing home on Dog River. Floodwaters damaged many of their belongings, and construction plans for their new home were put on hold while they dealt with the storm's aftermath.
Cissy contacted Russell Nelson Restorations to survey the damage. Nelson deemed the furniture salvageable, so the McCraws packed up their belongings and placed them in a pair of 24-by-16-foot storage units. Nelson took the pieces one by one, methodically restoring them to their former beauty.
The years after Katrina threw the McCraws into limbo. "It was like camping out for a couple of years," Cissy says. Finally, in July 2009, the couple broke ground on their inland dream home. Cissy delved wholeheartedly into the building process, guiding everything from the floor plan to the placement of each curio. With the help of architect Chris Lacoste, her vision became a working plan.
The McCraws moved into their new place in November 2010, but Cissy spent the next nine months perfecting the details. She credits Ann Navarette for executing the finishing work. Navarette's hand is evident throughout the house; she worked on the trim, the fireplace, the cabinets – even the toilet hinges in the powder room.
Cissy really enjoyed the challenge of crafting a living space from scratch. For every fixture and finish, she carefully researched vendors to find the perfect fit. "I had a file cabinet full of notes and brochures," she says, "and I did a lot of digging and searching."
Her hard work paid off. The home neatly combines unexpected elements, resulting in a unique and balanced space. "I'm an out-of-the-box person, but I still wanted to be surrounded by my family heirlooms," Cissy says. "I can tell a story about everything in our house."