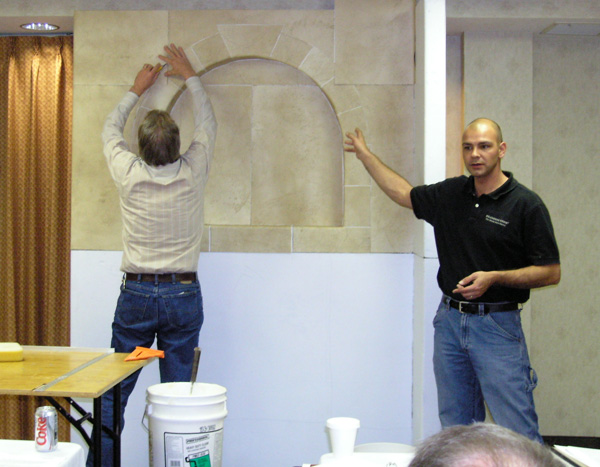 The hands on certification program is presented by Sean Howard, the owner and inventor of Weathered Stone®. In these courses you will learn highly refiend design and installation techniques.
Our goal is to make sure you are successful! During each eight hour class you will learn Layout and Theory of Design, Hands on Techniques, and Cost Estimating. You will walk away from the class with the knowledge to engineer, install and estimate projects as well as the following tools to help you get started. .
Our commitment to your success does not stop there. We actively promote Weathered Stone® to many of the top professionals in the building industry and our Weathered Stone® web site is continually researched by Architects, Interior Designers, Home builders, and Contractors from around the world. As a CWSI these clients are looking for your services!
Here are a few things CWSI's are saying about Weathered Stone®
"Weathered Stone has greatly increased my client base" Gary Sanders - Sanders Wallcovering
Kansas City, KS
"This is the most amazing faux stone product I have ever worked with" Lillian Weise - Lillian's Interiors
Nashville, TN
"I love working with Weathered Stone it is so creative!" Gary Lucas
Waterville, OH
"I can't get over how versatile Weathered Stone is. It is the coolest faux stone product to work with" Tim Hampshire - Custom Finishes
Vorhees, NJ
---
Online Training
Can't wait for the next hands on traning?
Then this is where you can get started
5"x7" Sample Set
Basic Designer Listing
Access to Wholesale Pricing
Hands On Training
The hands on training is a very detailed and complete training of Weathered Stone installation techniques
8.5" x 11" Sample Box Set
Floor Stand Sample Set
Showroom Listing
Wholesale and Volume Pricing
Layout and Design Assistance
One time Free Showroom Installation
Model and Show home Pricing*